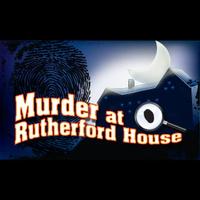 A Fundraiser to benefit the Hinkley Community Center & Child's Play Productions
A Full Lenth Play: Mystery/Thriller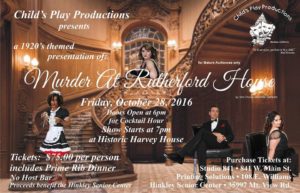 Studio 841 is proud to be a part of this production behind the scenes. We will be doing hair and makeup as seen on this flyer. We will be selling a limited number of tickets so purchase them soon, as they sell out fast!!! For more info Contact Jackie at Studio 841 at (760) 256-6077
It is the fifth anniversary of the death of Lord Rutherford. Lady Rutherford is throwing her annual dinner in commemoration of the event– to which you are cordially invited. On arrival you are given a character name and a dossier explaining your background and connection to the Rutherford family. Over cocktails, you mingle with the other guests, spotting the Baroness von Keepsemfrumfloppen and figuring she's an actress, but what about all these other people? Suddenly, there's a gunshot resulting in the evening's first corpse. The body is removed and you sit down to dinner. A detective reveals himself and begins the investigation. What have you observed so far? Have you a clue to the killer? Clues seem to be everywhere, but which ones count and which are red herrings? Ultimately, there is a parade of suspects. You may question them. Perhaps you ask just the right question at the right time and unmask the murderer. Perhaps you ask the wrong question and become the prime suspect! You begin to wonder: will you survive till the coffee and cordials are served? In the end, all is revealed and justice prevails. The Silver Sleuth Award is given to the guest who best explained the who, why and how dunit of the murder at Rutherford House!!!
"Like a life sized game of Clue…. Wonderfully enjoyable." – Boston Globe
"A party game for people in search of more spice in their entrees." – New York Post
MURDER AT RUTHERFORD HOUSE was first performed at the original Rutherford House Mansion in New York City on September 10, 1986. It was directed by Tom Chiodo
We encourage you to dress 1920's themed and join in the fun!
Drawings, prizes and much more!!
For Mature Audiences Only!
Tickets Available at the following Locations:
$75 per person
Studio 841
841 W Main St
Barstow, Ca (760)256-6077
Printing Solution
108 E. Williams St
Barstow, Ca (760) 256-5205
Cocktail Hour from 6-7pm No Host Bar
Dinner will be served promptly at 7pm by:
J & S Specialties, Inc Customized Catering & BBQ
Menu: Dinner Salad, Prime Rib (med), Dinner Roll, Twice Baked Potatoes, Green Beans with Cranberries and Almonds and a decadent Dessert!
Want to garentee your ticket? Reserve your ticket with deposit.
Only 50 tickets available with this offer Now until July 31st
For more info contact:
Terry Ellis
Auction Event Coordinator
terry.ellis13@yahoo.com
760-963-6001
From the Cast of Murder At Rutherford….." A Little Party Never Killed Nobody"